Microsoft launches Surface Book Laptop
On Tuesday in New York City during the "Windows 10 Device briefing" event Microsoft launched its first surface book laptop, which runs on the Windows 10 operating system.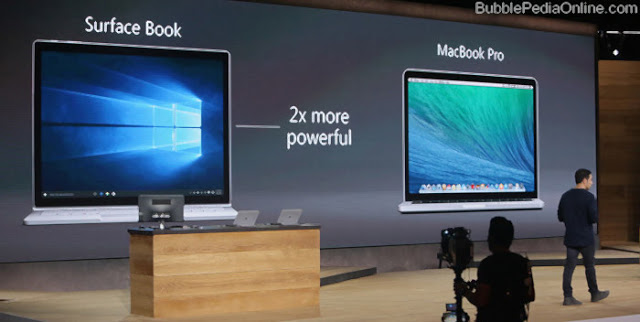 According to Microsoft,
it will work at double speed than Apple's MacBook Pro
The value has been set
of $ 1,499 i.e. approximately 97 500 rupees.
For users, it will be available in the market from October 26. It has detachable, Touch -enabled 13.5 -inch screen, which is moving from the surface pen. Now Surface Book will come in direct competition with Apple's MacBook and Google's Chromebook.
Let us tell you now that Microsoft Surface book has been introduced with Intel's sixth version of the Core i7 processor. A detachable keypad is also available with Microsoft Surface Book. You can use it not only as a laptop, but also as a tablet. The 13.5-inch 3000×2000 display has been provided. The display resolution is 267 PPI and has 16 GB of RAM. It has Nvidia GeForce graphics card for graphics.
Its key feature is that it can turn up to 360 degrees. The CPU is fitted on the screen and GPU is attached with its keyboard. So this laptop is powerful and quite sleek as well. Gorilla glass 4 is coated on the screen. Backlit key is used in it. Launched with a new look, this laptop can be said as very attractive. It works on Windows 10 operating system. The company said it has 12 hour battery backup.