Photo Album Maker Software: Boost Your Print Sales Business
There are arguments on both sides of the table for whether Photo album maker software is a viable option for companies. However, one thing is for sure that the demand for such personalization is on the rise. Photo-based personalized prints are part of a bigger industry of personalized products.
In a recent survey by a global business consulting firm, it was found that this market has immense scope. As many as 30% of online shoppers within a focus group of 1000 were enthusiastic about trying personalized products. And given the popularity of custom prints online, it would be no surprise if they started with photo-based personalized products.
Given the higher retail price for personalized and the tremendous brand loyalty it can provide, this niche can be a prime focus for both upcoming and established businesses. If you are unsure of how a photo album maker software can benefit your business. Here are a few factors to get the proverbial ball rolling.
Photography has come a long way from the time the first camera was invented. Now, we can take pictures using our mobile phones and there are HD cameras that take crystal clear photographs in any and all lightings.
Naturally, a lot of people want to get creative with their photographs. They want the most special ones on a variety of products like t-shirts, mugs, pillow covers, and many others. In fact, this personalized photo-based printing niche is a fast-growing part of the online print e-commerce industry.
5 Benefits of using Photo Album Maker Software to Boost your Sales.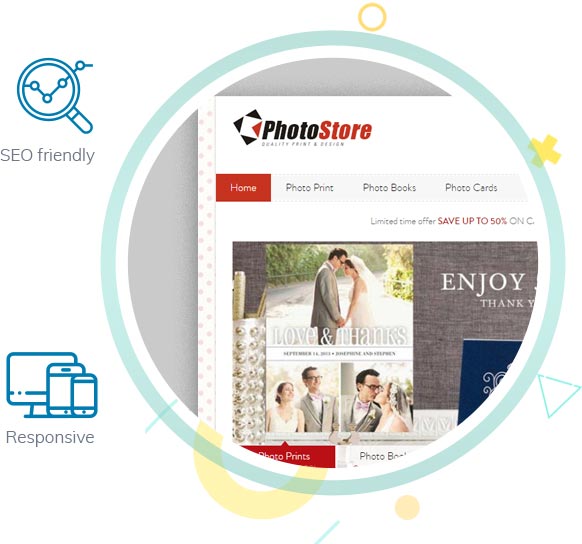 Personalization is Gaining Prominence
Ask any experienced marketer or international retail expert and you will find them talking heavily about personalization. From personalized ads to personalized products, companies are finding better ways to attract attention from clients and keep their loyalty Photo Album Maker Software are a great choice.
One of the best ways of product personalization is through creative photo album maker software. Studies have shown that even with personalized products, clients want a fair returns policy. This can be a problem for companies as a personalized product cannot be resold and must be discarded.
However, personalized photo-based products can greatly reduce the chance of returns as they automatically carry sentimental value with it.
Customers Get to Be Creative
The best photo album design software provides clients with a ton of options when it comes to customization and presentation. This means that they can get exactly the kind of design they want and then commit it to print. Naturally, this carries with it the prospect of enhanced retail pricing, which is certainly beneficial for companies.
Also, customers tend to keep coming back to companies that can help them express themselves in other words, a quality photo album builder software will help immensely in building brand value and loyalty. Further, there can be minor additions made to the software to make it more appealing, thus retaining its overall value for some years to come.
Free Social Media Promotion
When a customer creates photo-based designs, they are very likely to share it with their social media contacts. At the very least, they will tag the people who are in the photographs. This is a free social media promotion for the company and an opportunity to build brand reputation and attract sales.
This can further be incentivized by a slightly lowered cost of printing on a future purchase. Thus, the customer can be compelled to repeat business as well as serve the social media promotion agenda of the company at the same time.
Competitive Strategies
The intense amount of competition in the e-commerce domain means companies are always looking for better strategies. While personalized print is still a dominant niche, it has the potential to become a major force. Already, major companies are considering how this can be integrated into business operations.
To compete with industry giants, it is imperative to have an effective strategy that can provide personalization options to clients in association with photo album maker software.
Revenue Diversification
What is unique about product personalization is that is has a certain consistency about it. People will always want such products in some way or another.
Through Best photo album builder software, a print business can ensure they have a high-revenue generating process for a relatively lower sales volume. This can help the company diversify into other print domains in the long-run.
Conclusion
With the rapid increase in demand for product personalization, it essential that print companies explore multiple ways of drawing more customers.
Currently, photo album maker software is a great way to engage audiences, deliver custom printed products, generative high-revenue sales, and also build a loyal customer base. Consider all these factors and make a smart decision for your online print business.