3 Reasons Why You Need a B2b eCommerce software to Increase Sales
According to Statista, online statistics, market research, and business intelligence portal, the current worth of the global B2B eCommerce software market is estimated at $7.7 trillion. And so, companies shouldn't ignore the opportunities for exploring the B2B sector.
For years, marketers have separately dealt with B2B (business-to-business) and B2C (business-to-customer) strategies. Nonetheless, with time, the availability of data through web scraping and social networks have revealed that the behavior of B2C and B2B audience is converging, especially in the eCommerce industry.
The current B2B models conveniently shun the automated ordering framework which emphasized more on building connections and less on drawing transactions.
The new and updated B2B eCommerce software business model addresses clamorous challenges, such as multi-party deals, unpredictable transactions, expanded collaborations with clients, etc. that slow down your growth. And, B2B eCommerce software companies exactly know how to address these grey areas.
A Combined B2B-and-B2C Approach is the New Recipe for Success!
Experimental marketing strategies are in! (Preferably those that involve customers in a realistic but alluring brand experience).
Social Networking is a Must! (Both verticals enlist social influence as the prime factor guiding their marketing strategies).
Targeting human emotions is as important as targeting professionalism.
Your Clientele is a Fusion of Individuals and Companies
Considering the sheer numbers of review forums and comparison websites that exist today, it is obvious that your clients know you before you know them, and they know you well. Different surveys conducted by a marketing agency gyro states—
97% of consumers select a vendor before establishing the purchasing group.
89% of individuals prefer to buy from vendors that understand their needs.
83% of companies are more likely to buy products or hire the services of a business whose culture matches theirs.
If you think investing in B2B online software solutions is a waste, here is why you need to change your opinion.
3 Reasons for choosing B2B eCommerce software Platform
Big Orders and Higher Conversion Rates
Unlike the B2C markets, where the average order value is less, the B2B customers buy large quantities in bulk. Hence, the average order value of a B2B transaction is approximately $491, as compared to the average B2C order value, which is just $147.
The B2B industry is twice the size of B2C, which is why, sellers enjoy a higher conversion rate, nearing about 10%.
B2B eCommerce Software Attract More Customers
The initial B2B prototype was for remarketing and served just the existing customers. Some of them started as online catalogs that supported reordering. Others served as simple 'technology-based' portals to replace customer service reps.
With time, they have acquired a new form, and are starting to resemble the popular B2C websites—designed to attract lone shoppers as well as, big groups. They use new tools and features to lure buyers that research and compare services before finalizing their vendors.
This reason has driven big shots like Magento, Shopify Plus, and BigCommerce to add B2B functionality to their platforms. Consequently, the entire industry is now inclined towards adopting the B2B eCommerce Solution for Wholesale.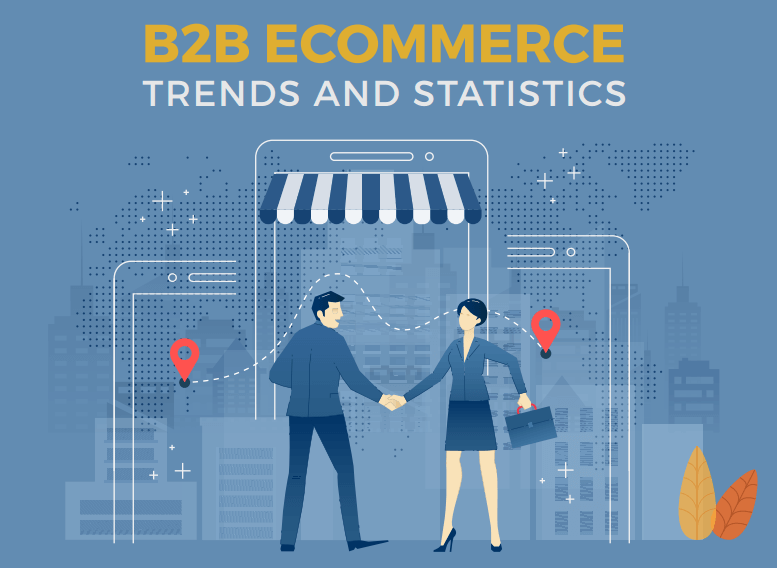 Maximize Revenues by Selling More to your Customers
The B2C retailers spend their time and efforts on item suggestions, up-selling, cross-selling, and personalization to pitch more to the online shoppers. However, many on-location marketing techniques are accessible to B2B retailers. This is why, with proper B2B online software solutions and tools, you have the ability to maximize sales.
Also, it will help you keep the existing clients, draw more clients, and pitch more to clients in both the categories, which is a massive advantage.
Benefits of b2b eCommerce software?
The integrated cloud-based eCommerce systems support faster order fulfillment.
You can reach new customers and sell directly to them.
You can manage your suppliers more efficiently.
Combining eCommerce with the B2B strategy helps you deliver a better customer experience.
Conclusion: Develop a B2B eCommerce software Platform
One cannot deny that eCommerce is an important and inseparable part of the B2B industry. If you want to stay ahead in the rat race, you need to research on how companies are innovating their sales process with advanced B2B technologies.
For some, choosing their first eCommerce platform is a Herculean challenge, but you can easily overcome this with the help of the right professionals. Just don't hesitate to avail of the benefits of B2B eCommerce because it will help you earn more than what you are earning today.