Flipkart ping….. Now you can chat and shop with your friends by!!!
Flipkart is inviting you to a feature as Flipkart Ping by using this you can share wishlists, carts and images. Not only this, you also can chat with your phone book contacts. Pay attention to this closer look about Flipkart Ping and find why this feature is more interesting.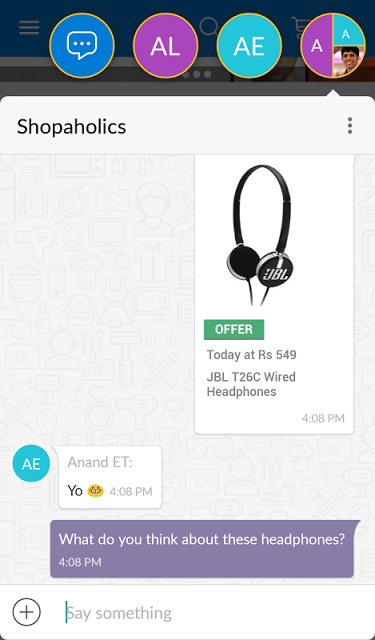 This Tuesday, Flipkart Chief Product Officer Punit Soni took a photo of the shirt worn by the person sitting next. After that he popped up on his mobile all shirts on the Flipkart platform matching the checkered design and shared that with their friends through a new chat app Flipkart Ping for asking if the shirt will suit him?
It was the demo of this new chat app which had been launched on this Tuesday.
By using this app, you can message the online seller asking him to deliver the package. And then, chatting directly with the brand and online customer support via a messenger, in case you get a broken piece.
Soni said,"Online shopping till now was an isolating experience where people clicking on phones while sitting in cubicles. So we are trying to emulate social shopping with this chat feature. By Flipkart Ping App, you feel amazing by sharing image before buying". Once the resting is over, the feature will be rolled out to all users. Currently the app size has been increased by about 2 MB. Bubble Pedia Online Ready for provide all online information to online users.